You can create a treasured memory at the open-air bath where you can see a marvelous view from forty meters in the air!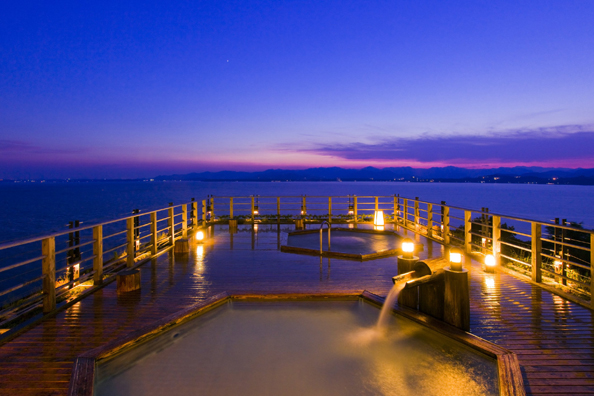 Kanzanji Sago Royal Hotel is a Japanese inn at a hot-spring resort surrounded by Mt. Tateyama that has Kanzanji temple, the origin of the name "Kanzanji Onsen". At Mt. Tateyama, there is a Kanzanji Sho Kanzeon Bosatsu Statue standing as if watching over the hotel, and you can walk to visit there. During evening twilight, you can enjoy the beautiful view of Lake Hamana which changes from moment to moment, from the open-air bath or the pool side. It's at a very magical location, and only a few minutes walk to the activity facilities such as Lake Hamana Sightseeing Cruiser boarding point.
HOT SPRING (ONSEN)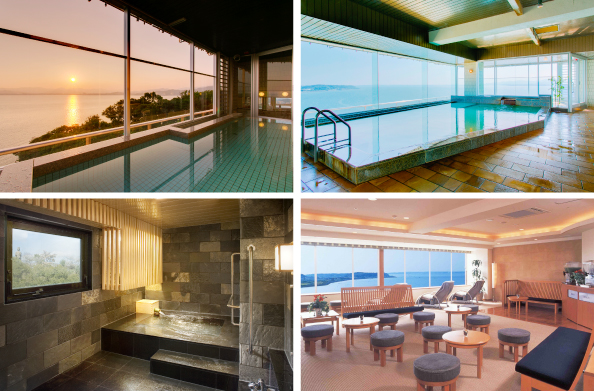 You can enjoy the scenery of the magnificent Lake Hamana from "the observation panoramic large public bath/ open-air bath" on the 10th floor of the hotel and "the open-air bath Hiten" on the roof 40 meters above the ground. Also, you can enjoy an onsen in a private space at "Koyunoma". ※You can enjoy onsen on a day trip.
RESTAURANT

At the popular buffet "Fujino-kuni Shizuoka Gourmet Biking", the theme changes a couple of times a year, and you can enjoy seasonal local foods of Shizuoka prefecture. There also are various set course in which you can enjoy local ingredients, such as natural tiger puffer.
GUEST ROOM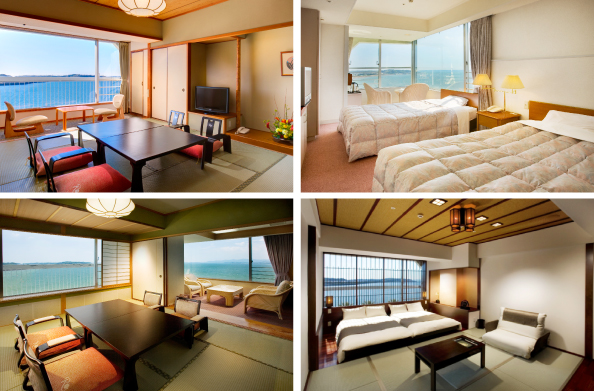 There are various guest rooms that can match your needs such as Japanese / Japanese-western style or western style, and you can view Lake Hamana from every room.
AMENITES

Bath towel, Towel, Toothbrush, Yukata, Hanten (winter only), TV, Safe, Refrigerator, Unit bathroom, Bidet-toilet, Hairdryer
INFORMATION

The guest-only pool faces Lake Hamana where you can almost feel the unification of the sky and the lake, which is an open-air space. You can enjoy a completely different atomosphere at night because of their illumination.

The shop inside the hotel is duty-free which is good for foreigners, and there are many local specialities. You can also enjoy walking the street of Kanzanji using the rental service of colorful yukatas only in summer.

There is a board where you can check the sunset time of the day at the lobby so that you won't miss the marverous sunset. Also, "Kanzanji sun beach" which is only a minute walk from the hotel is popular sunset viewing spot for walking and you can enjoy swimmning there during summertime.
Free-and-easy bus tour
"ENSHU-DOCHU HIZAKURIGE"

Limited to guests staying at Kanzanji-onsen affiliated hotels and inns, the itinerary of this free-and-easy bus tour conducted by local guides is changed every 2 weeks or so. Wouldn't you like to go on a 3-hour mini-tour around the various tourist attractions while being introduced to beautiful natural scenery for each season?
[Participation Condition]
Limited to guests staying at Kanzanji Onsen.
[Fees]
¥1,500 for those aged 6 and above
[Application]
・Please book your bus tour at your place of accommodation.
・Reservations are accepted until the day before the tour on a first-come-first-served basis.
・Prior reservation is recommended as the tour may be fully-booked sometimes.
[Day of the Tour]
9am Depart from Kanzashi Onsen Tourism Association
※Guests who arrive in cars can park their cars for free in the car park of the Tourism Association.
※Guests who arrive using public transport will be picked up at the various facilities.
12pm Arrival at Kanzashi Onsen Tourism Association
General Information
Check-in
3pm
Check-out
10am
One day onsen available time
11am - 5pm (Last reception time 4pm)
※There is a day or time you cannot go in depending on conditions.
Credit cards
UFJ, JCB, VISA, UC, DC, DINER, MASTERS, AMEX,銀聯
Parking
Free parking
Language
There are staff who can speak English/ Chinese.
(It depends on the time of the day)
Capacity
97 rooms
Internet
Free Wi-Fi is available in the hotel lobby.
Address
3302 Kanzanji-cho, Nishi-ku, Hamamatsu-shi Shizuoka Japan 431-1209
Telephone
053-487-0711
Fax
053-487-1276
Transport
From Hamamatsu Station
[Free shuttle bus] ※2-day advanced reservation required.
[Bus]
Take the "Kanzanji Onsen" line bus (46 minutes ride) at bus stop #1 of the bus terminal to "Kanzanji Onsen" then walk (3 minutes).
[Car]
15 minutes from Tomei Expressway Hamamatsu Nishi I.C.
30 minutes from Tomei Expressway Mikkabi I.C.
Miscellaneous
A cancellation fee will be applied within three days of your reservation.

https://www.3535.co.jp/royal/
(Japanese)
2016.6.21 update
Content may be subject to change after publication. Please also note that we are not accountable for loses and damages that may occur as a result of said changes.