A lakeside zoo with lots of sun and greenery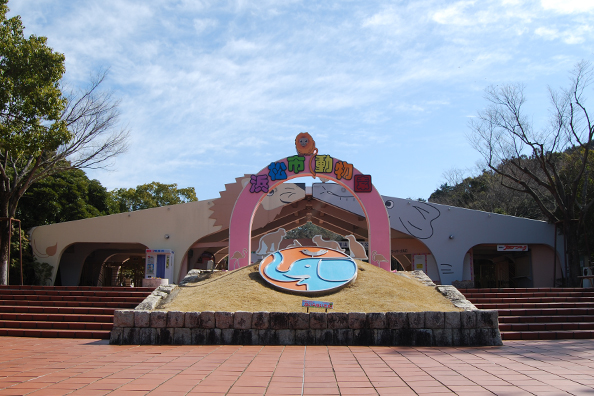 Dec. 1, 2020 (Tue) -Feb. 28, 2021 (Sun) 10am~4pm
During this period of time, it is not possible to enter the zoo from the main gate of Hamamatsu City Zoo due to construction work, customers who are entering the adjacent "Hamamatsu Flower Park" can enter the zoo using the common gate connecting the Zoo and Flower Park.
The admission fee is 500 yen (with a shopping ticket for 300 yen that can be used only at Hamamatsu Flower Park), junior high school students and younger are free.
<Temporary closure>
Mar 1 (Mon) -Mar. 19 (Fri), 2021

Hamamatsu City Zoo was the first zoo to open in the prefecture of Shizuoka in 1950. 400 animals from 120 species are bred there, and together with its extensive exhibits, various events are held for the enjoyment of visitors.
Since moving to its present location facing Lake Hamana, the sprawling estate now covers a land area of 146,000 square meters that makes use of the natural, undulating terrain to project an image of being in the middle of a forest. As you follow the path heading towards the animals, you can hear the chirping of the birds and the buzzing of insects, you can also stop to admire the flowering plants along the way. It will surely lighten your mood and provide a sense of respite for your body that is exhausted from a hard day's work and suffering from lack of exercise.
In addition, there is also an adjoining flower park at the southern end of the zoo. If you purchase a joint entrance ticket, you can visit both the zoo and the park freely using the connecting walkway. A visit to the park after viewing the animals may be an interesting way of experiencing the various seasons.

Extensive exhibits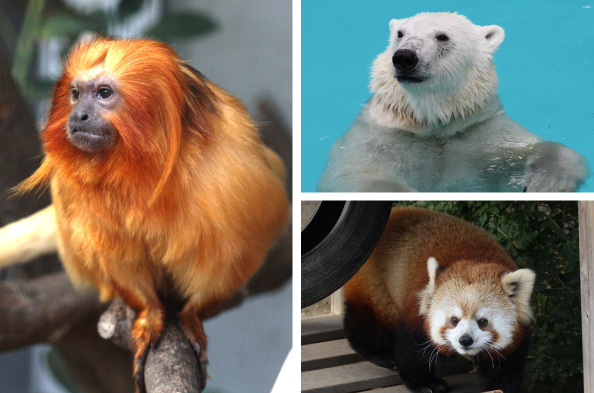 Hamamatsu City Zoo has the largest collection of primates among zoos in Japan including the Western Lowland Gorilla and Sumatran orangutan. Another must-see exhibit is the Golden Lion Tamarin, the only one of its kind here in Japan.
Besides these, there is also a live interaction corner where you get to mingle with sheep and goats everyday and also rabbits on Sat, Sun and public holidays. From there, you can enjoy a sweeping view of Lake Hamana and also beautiful cherry blossoms in spring. Near the viewing forum, there is an insect park, with a collection of 5,000 insects from approximately 2,000 species, where exhibits are rotated several times a year.
※At the live interaction corner, you can get a chance to hug a rabbit between 1:30pm and 2:15pm in the afternoon on public holidays.
The numerous exhibition areas are spread out among the undulating terrain but notice boards are located here and there. If you follow the numbers given at the various exhibition areas, you can view all of them in an effective way. A universally-appealing design has also been adopted within the park so that everyone can enjoy it. Let's take a trip around the world and see all the different animals from different countries!

Aug special! Night zoo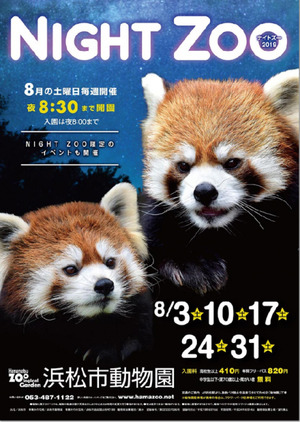 Click to enlarge
Every Saturday during the month of August, the opening hours of the zoo will be extended until 8:30pm for "night zoo visitors". Together with the zookeepers, this has become a great attraction among animal-lovers. The animals you see at night are a little different from those you see during the day. Be sure to experience with your own eyes how lively and energetic these nocturnal creatures are.

Admission
Child (Junior high school and down)
FREE
Adult (High school and up)
¥ 410
http://www.hamazoo.net/outlineEn.php
>>

Hamamatsu City Zoo


/ 浜松市動物園【hamamatsu-shi dobutsuen】
ADDRESS
 199 Kanzanji-cho, Nishi-ku, Hamamatsu-shi, Shizuoka 431-1209
PHONE
 053-487-1122
OPEN HOURS
 9am-4:30pm
CLOSED
 12/29-12/31
TRANSPORT
 From Hamamatsu Station
[BUS]
 Take the "kanzanji onsen" line bus (50 minutes ride) at bus stop #1 of the bus terminal to "Doubutsuen mae" then walk 3 minutes
[Taxi]
 35 minutes
2019.10.7 update
Content may be subject to change after publication. Please also note that we are not accountable for loses and damages that may occur as a result of said changes.