A resort-style amusement park surrounded by the great outdoors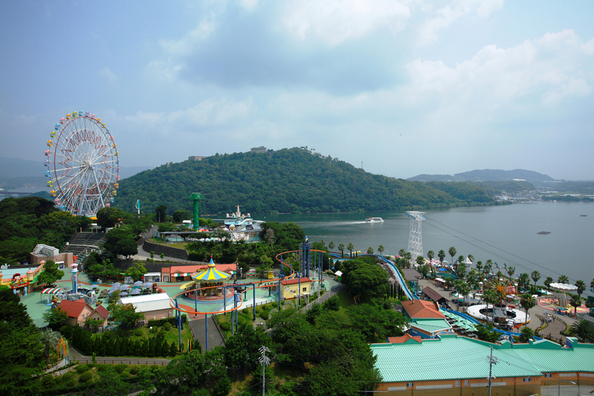 Hamanako Palpal is a resort-style amusement park with around 30 attractions located oån the banks of Lake Hamana.
Attractions for everyone from little ones to adults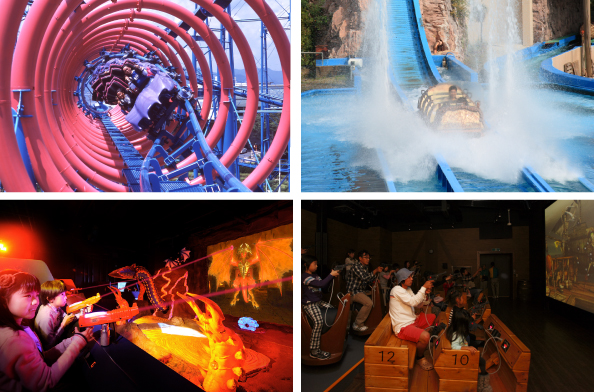 Thrill rides like our mega-coaster, "The Fourth Dimension" and rapids ride "Don Black" as well as shooting games like "Dragon Fighter" and "Pirates Adventure", are super popular with the kids.

Our Ferris wheel, about 60 meters in height, is decked out in lights which shine brilliantly at night in our fantasy show, "Pallumination," a delight of sight and sound.
Experience the thrill, the exhilaration, and the sense of release on our rides that take you up in the air and while you're up there, take in the magnificent scenery of Lake Hamana and Mt. Okusa.

In our indoor playland, "Kids Paradise," there are mini-coasters and other attractions just for our younger park-goers. We've got something for everyone here so you can take the whole family and spend an entire day enjoying our rides.

Some of our newest attractions include "Hide and Seek with Bakke," a delightful haunted house full of monsters which are overwhelmingly cute instead of scary. Also, there's the "Spinning Sushi" ride where you ride a sushi-shaped cart and try to gather as many points as you can. You can enjoy both of these rides with your children.
On Sundays and holidays on the "Pal Stage," we host a character show starring your favorite heroes and heroines.
There are also shops selling original merchandise and other popular goods. Our most popular products include the Palpal mascot merchandise, cakes, pastries, and other souvenirs.
Late Hours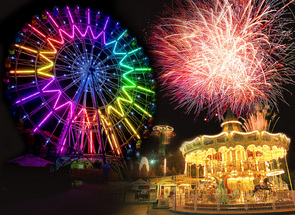 The photograph is an image
We have extended hours from 8/1 - 8/31 where the park will be open until 20:00. We suggest escaping the midday heat and enjoying the rides when it cools off in the evening. Also, there are firework displays during that time, where around 150 rockets are set off in the air, coloring the night sky. (Fireworks schedule is subject to change.)
Summer-only Pal Pool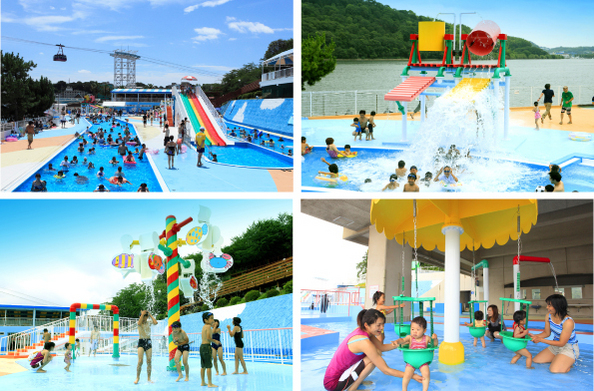 Located on the coast of an inlet in inner Lake Hamana is Pal Pool, a place where the pool ambience and the waters of the lake come together. The area is surrounded by natural beauty allowing you to savor that great resort atmosphere. Starting with the wave pool, there are tons of water attractions including a waterfall, a giant tilting bucket, and baby bungees.
http://www.pal2.co.jp/
(Japanese)
>>

Hamanako Palpal

/ 浜名湖パルパル

ADDRESS
1891 Kanzanji-cho,Nishi-ku,Hamamatsu-shi,Shizuoka
PHONE
053-487-2121
OPEN HOURS
10am ~ 4:30pm
※Hours differ by day and season
※Evening hours are instated during summer and Golden Week
※ Park closure days change by season (Park open on weekends and holidays, spring break, Golden Week, summer holidays, and over the New Year holiday)
TRANSPORT
From Hamamatsu Station
[BUS]
Take the "No.30 Kanzanji" line bus (50 minutes ride) at bus stop #1 of bus the bus terminal to "Hamanako palpal" then walk 10 minutes
[TAXI]
35 minutes
2019.10.7 update
Content may be subject to change after publication. Please also note that we are not accountable for loses and damages that may occur as a result of said changes.