The one and only in Japan! Lake Hamana cruise from the Hamanako Service Area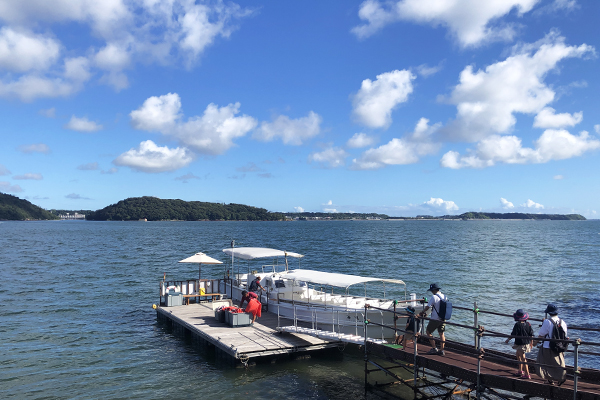 There are closed for the time being to prevent infection with the new coronavirus.

We speak only Japanese,
but we will try our best to provide you with a great
Sat, Sun, holidays, G.W. and Fri, Aug. 9th to 18th between
Sat, Apr. 13th to Sun, Nov. 24th 2019
10am - 4pm


(Last admission time 4pm)
The Hamanako Service Area is one of popular service areas in Japan and is located at the midpoint between Tokyo and Osaka. This is the only place in Japan where you can enjoy cruising from a service area! For a limited time only, this boat sails with the guide of local fisherman. The voyage takes about twenty minutes and travels by rough rocks which was used for the stone wall of Hamamatsu Castle, to Uchiura Bay where you can see the seasonal scenery of Tateyama/Ohkusayama, and it also goes under the big red bridge of Tomei highway to Lake Hosoe where you can see Mt. Fuji when the sky is clear.

Cancellation may occur due to inclement weather such as severe wind.
Please refer to
the website (Japanese)
on the date of sailing
(updates every operational day at 8:30am)
Addmission

4 year old 〜 Elementary school student

¥500

Adult (Junior high school student and up)

¥1,000
ADDRESS Tomei Hamanako S.A. 61-2, Sakume, Mikkabi-cho, Kita-ku, Hamamatsu-shi, Shizuoka
PHONE Hamanako Kanzanji-Onsen Tourist Association
053-487-0152(Japanese only)
OPEN 
Sat, Sun, holidays and G.W between 2017/4/23 sun - 11/26 sun.
10am - 4pm(Last admission time 4pm)
※20 minutes per round trip, leaving every 30 minutes / Cruise time maybe extended during some seasons

TRANSPORT From Hamamatsu Station
[CAR] Tomei Expressway - Between Mikkabi I.C. and Hamamatsu-Nishi I.C.
[Local roads] Accesible by a car or a bicycle through Puratto park.
2018.4.16 update
Content may be subject to change after publication. Please also note that we are not accountable for loses and damages that may occur as a result of said changes.